Double Glazed Bi – Fold Doors
Pvc Windows Australia's double glazed bi-fold doors open completely by folding flat against the wall when they are fully open which allows you to have a wider space open. These doors also allows you to access the outdoors easily. Flyscreens are also possible with this type of door.
Benefits of bi- fold doors.
Illusion of extra space and ingress of natural light
Opening room up to outside
Impressive functionality and security
Slim and good looking
Energy efficient and eco friendly
Large range of colours
Add value to a property
CLOSED POSITION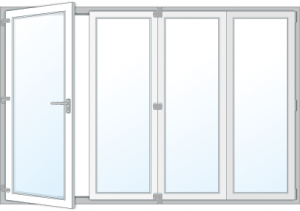 OPEN POSITION 1
OPEN POSITION 2
OPEN POSITION 3
Save